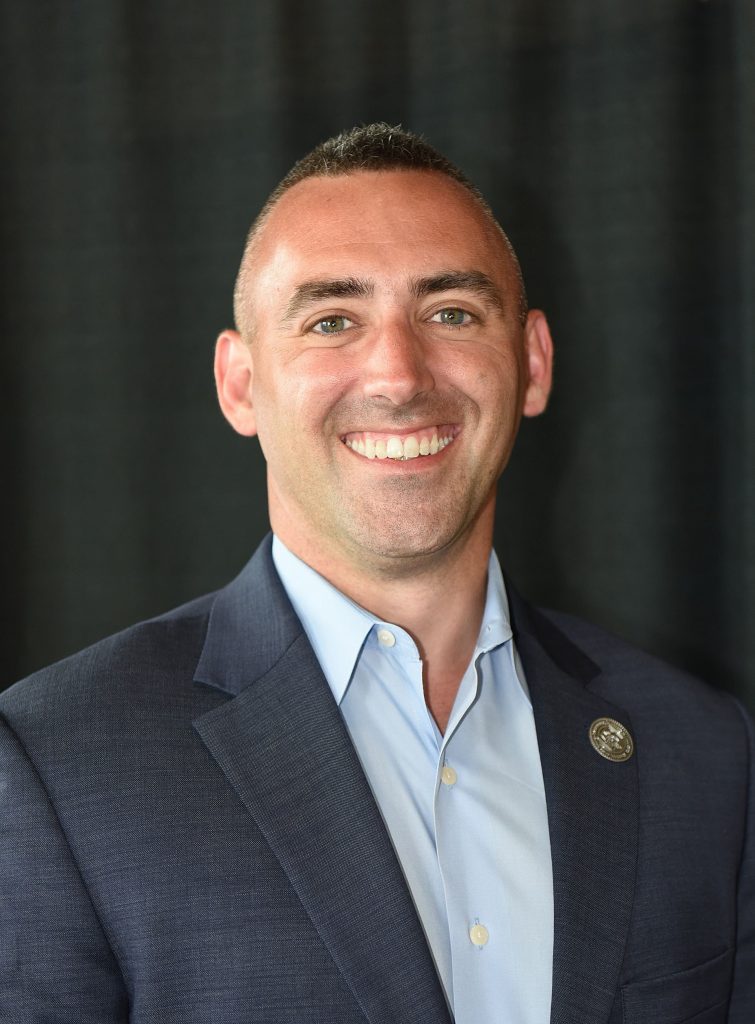 Jake Day is the Mayor of Salisbury, Maryland. Born and raised in Salisbury, he was elected to the City Council at the age of 30 and unanimously elected President. First elected Mayor in 2015, he was reelected in 2019 with 86% of the vote. Under his leadership, Salisbury has established a Housing First program to reduce chronic homelessness, opened its first 2 youth community centers and recreation programs, borne witness to Maryland's fastest declining rate of opioid overdoses, and the fastest dropping crime rate of any US city in the last decade. The renaissance of Downtown Salisbury has helped Salisbury become Maryland's fastest growing City, America's 7th fastest growing job market, and America's 16th fastest growing metro area. As Mayor, Jake oversaw the complete reorganization of Salisbury government; restoring employee morale, customer service, efficiency and transparency.
Jake earned a bachelor's degree in Architecture from the University of Maryland, a Master's Degree in Urban Design from Carnegie Mellon University and a Master of Science in Environmental Policy from Oxford University where he graduated with distinction for his dissertation on the American lawn.
Jake has spent his career revitalizing downtowns and making them more vibrant, livable places. His work with the Eastern Shore Land Conservancy, most recently as the Director of the Center for Towns, employed design, planning, and implementation assistance to establish vibrant, sustainable small cities and towns on the Eastern Shore.
Before moving back to the land of pleasant living, Jake served as national President of the American Institute of Architecture Students (AIAS) and later as Editor-in-Chief of CRIT: a journal of architecture. A Richard Upjohn Fellow, he served on the American Institute of Architects (AIA) national Board of Directors and in various capacities with each of the national architectural organizations (NCARB, NAAB, ACSA) as well as Urban Dialogues.
Jake is a Global War on Terrorism veteran, and is currently a Major in the Army. He has completed one combat deployment to Kenya, Somalia, and Djibouti as the Special Technical Operations Chief and Deputy Director of Information Operations for Combined Joint Task Force-Horn of Africa, for which he received the Defense Meritorious Service Medal and the Joint Service Achievement Medal, as well as the Global War on Terrorism Expeditionary Medal, the Combat Service Identification Badge, and the Overseas Service Ribbon. Jake was the 3rd US Mayor to deploy while in office, following in the footsteps of US Secretary of Transportation (and Navy Lieutenant) Pete Buttigieg of South Bend, Indiana, and the late Army Major Brent Taylor of North Ogden, Utah. He is a current student in Command & General Staff Officer's Course and is a graduate of Special Technical Operations Planner's Course, Special Technical Operations (PDAS) Operator's Course, Military Information Support Operations (PSYOP) Integration Course, Information Operations Qualification Course, Maneuver Captains Career Course, Armor Basic Officer Leaders Course, Officer Candidate School and Basic Combat Training at Fort Benning, GA. Jake has served as Senior Platoon Trainer of the Officer Candidate School, Platoon Leader and Executive Officer in the 1-158th Cavalry Regiment of the 58th Battlefield Surveillance Brigade, and as Aide-de-Camp to Brigadier General Hinz, Commander of the Maryland Army National Guard.
Some of the honors he has received include selection to the Next American Vanguard, Leadership Maryland, the Mayor's Institute on City Design (2015 and 2019), and he has been selected to serve on the Smart Growth America Local Leaders Council and the Chesapeake Bay Program's Local Government Advisory Committee. Jake was recently elected to serve as the President of the Maryland Municipal League. He was awarded the 2018 Entrepreneurial American Leader Award by Partners for Livable Communities, Maryland Sustainable Growth Award for Leadership (2012, 2018), and the Maryland League of Conservation Voters' 2018 President Theodore Roosevelt Award, a 2010 Strong Communities Competition national semi-finalist, 2010 Heart of the Chesapeake Outstanding Project award, 2007 ULI Gerald D. Hines Urban Design Competition Honorable Mention and has been featured at the International Society of City and Regional Planners' Conference in Belgium, the AIA Gold Medal Forum, AIA National Convention, the National Building Museum and in publications including Urban Trialogues and Strategies for the Reuse of Vacant Urban Land. He was also featured in the commonly used architecture textbook: Becoming an Architect. In addition to his written and editorial work for Crit – Journal of Architecture, Jake authored a 2010 book about the place work[s]hop community design process.
Since his election, Jake's budgets have focused heavily on community betterment through placemaking, crime reduction, and infrastructure improvement. Under his leadership, the City has identified its brand, rebuilt the streets of our historic Downtown, attracted a USATF-certified marathon, and has become host city to America's oldest and largest traditional arts festival: the National Folk Festival from 2018- 2022.
Jake and his wife Liz are the proud parents of two darling little girls: Lilly and Olivia.