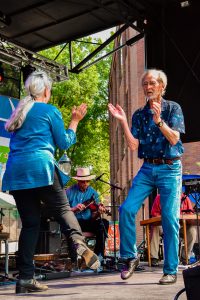 The National Council for the Traditional Arts (NCTA) and the City of Salisbury are proud to announce plans for the National Folk Festival to continue its tenure in Salisbury, Maryland, for another year. The nationally celebrated event, which travels from city to city across the country, will be presented on August 26-28, 2022, in Downtown Salisbury, Maryland.
This will be the fourth year the National Folk Festival is presented in Salisbury, an extension of the partnership that brought the 78th, 79th and 80th National Folk Festivals to this community. It also marks a date change for a festival that has taken place the weekend after Labor Day since 2018.
City leadership and the NCTA enthusiastically agreed that the opportunity to carry forward the momentum and excitement of this partnership would continue to bring lasting benefits and value to Salisbury. The city has enjoyed the National Folk Festival's ability to be a catalyst for the newly completed renovations in its downtown as well as wide-ranging community engagement. The National Folk Festival has been a major driver of the recent physical, social, and cultural renewal of the city.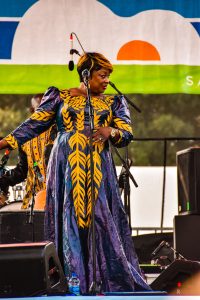 The NCTA, which has produced the National Folk Festival in 26 communities over 80 years, recognized the potential and value of keeping the festival in Salisbury for an additional year. The National Folk Festival is the nation's longest-running multicultural celebration of the traditional arts. It seeks collaborative partnerships with communities aspiring to build on this legacy. The search for the 2023 host city, a nationally competitive process, has begun; interested communities can learn more about hosting the National Folk Festival here.
The opportunity to present the 81st National Folk Festival in 2022, on the 4th weekend in August, will enable the City of Salisbury to leverage this economic and cultural catalyst for an additional year of recovery and rebuilding after the upheaval of the pandemic. The new weekend aligns with the end of summer travel and creates an opportunity for the city to have a destination event for its tourism and business communities during this peak season.
In spring 2022, organizers will begin publicizing 81st National Folk Festival performers and other details of the event with press announcements and updates to NationalFolkFestival.com.
To stay current, be sure to follow the National Folk Festival on Facebook (facebook.com/NFFMaryland), Twitter (twitter.com/NFFMaryland), and Instagram (Instagram.com/nffmaryland).
About the National Folk Festival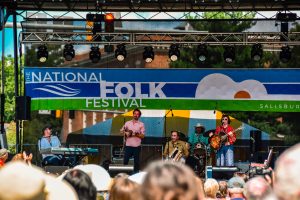 Since it was first presented in St. Louis in 1934, the National Folk Festival, the National Council for the Traditional Arts' (NCTA) flagship event, has celebrated the roots, richness and variety of American culture. Championed in its early years by Eleanor Roosevelt, it was the first event of national stature to present the arts of many nations, races, and languages on equal footing. It was also the first to present to the public musical forms such as the blues, Cajun music, a polka band, Tex-Mex conjunto, Peking Opera, and many others. Today, the National is an exuberant traveling festival, produced by the NCTA in partnership with communities around the country that embraces the diverse cultural expressions that define us as a people in the 21st century. https://www.nationalfolkfestival.com/