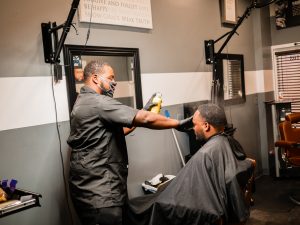 Dorian Purnell's philosophy about running a business is simple: support the community you serve, and they will support you right back. As the owner of Dstinct Dsigns Grooming Lounge (with locations in Downtown Salisbury and Crofton, Maryland) Purnell believes that a local barber shop can uplift communities, offer support, and act as a multigenerational community center for peers.
Hair cutting and styling has been a passion of Purnell's since he was a kid, and eventually began giving haircuts to his close friends when he was just 13 years old. "I always found myself looking at people's hairstyles, and after twelve years as a correctional officer, I decided to step out and pursue my dream of owning my own shop" shared Purnell.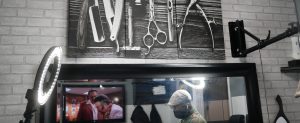 In 2011, Purnell opened the doors of his very first barber shop in Berlin, Maryland. He later opened a location in Downtown Salisbury, as well as teaming up with two other barbers to open a shop in Crofton, Maryland. This year when Purnell saw a larger spot open up at the City Center in Downtown Salisbury, just a few blocks from his original Downtown location on Baptist Street, he jumped at the chance to be on Main Street.
"The barber shop has always been known as a meeting place, especially for the black community. They would host gatherings at barber shops, meetings, and prayer events. The barber shop is a place where you can have people from all walks of life in one setting, and it's important to me that my shop feels like a place where everyone is welcome," said Purnell.
Purnell said the City Center family has been more than welcoming, and that he and his team happily eat Roadie Joe's "basically every day." From Kaiju Records to Lurking Class Skate Shop, Purnell says that everyone at the City Center has been supportive of their new neighbors, Dstinct Dsigns Grooming Lounge.
In terms of what people can expect when they visit the shop, Purnell says they do most everything you can imagine, from traditional barbering services, fades, mohawks, mini facials, coloring jobs and more. "I always stress to my team how important it is that we are a traditional well-rounded shop with modern day techniques," shared Purnell. They even have a Groomed Goddess package, geared towards their female clientele.
Dorian Purnell's work goes far beyond what you see when you visit his brick and mortar locations though, and he is constantly working to give back to the local community in any way possible. For eight years he hosted 'Fade for the Grade,' a back to school event in Berlin, providing supplies and haircuts to kids for the upcoming school year. In 2019, Purnell worked with Wicomico County to host a large-scale Back to School event at the Wicomico Youth and Civic Center right here in Salisbury.
Thousands of Wicomico County residents attended the Back to School event in 2019, an event that Purnell says he wanted to be accessible to anyone and everyone that was in need.
"I'm so proud of what we were able to provide for the community at that event, from free haircuts and sneaker giveaways to backpacks full of school supplies and the other organizations that attended to give out resources, it was an incredible event," said Purnell.

Purnell says at the end of the day, it's so important to support locally owned and operated businesses because they are the ones working to give back directly to the community, in ways that are more targeted and impactful than larger corporations.
"When you support local, you are supporting businesses that provide for our community in more ways than just providing a product or service. As a local business owner, I know what our community needs and how to help in ways that directly impact our community members and peers."
Click here to view Dstinct Dsigns Grooming Lounge Business Directory Listing