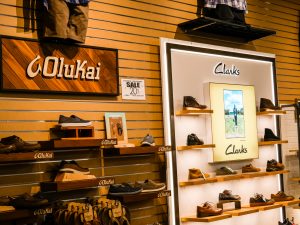 With over 84 years of experience selling shoes, apparel, jewelry, and other accessories to the residents of Delmarva, Vernon Powell Shoes has long been a household name in Salisbury and the surrounding area. First opened in 1936 by Vernon Powell himself, the VP Shoes legacy began after Vernon had spent time working for another shoe store in Downtown Salisbury and decided to venture out on his own.
Originally located in Downtown Salisbury, where the current Government Office Building now stands, VP Shoes has remained family-run and locally-based for their impressive 80+ years of operation. The company is currently in its 4th generation of family leadership with Joseph Wright, President of VP Shoes, and Stacie Dees, Vice President of VP Shoes, both great-grandchildren of Vernon Powell. Their father, Phil Wright, CEO of Vernon Powell Shoes, ran the company for many years before appointing Joe as President.

"I've been doing this as long as I can remember," shared VP Shoes President Joe Wright. "From carrying boxes in the warehouse as soon as I was old enough, to working in the storefront selling shoes, and then managing a store one summer, I've always known I would go into the family business," he added.
Vernon Powell Shoes boasts two large brick and mortar locations: one in Salisbury and another in Rehoboth, Delaware, both carrying everything from shoes and apparel to jewelry, accessories, gifts and more. The company partners with and carries over 200 top-quality brands such as Patagonia, UGG, Alex and Ani, Birkenstock, North Face, and many others. Normally one would have to travel across the Bay Bridge to a larger mall to find the brands that Vernon Powell makes available to their customers, but VP Shoes works to make these high-quality brands and items easily accessible right here on Delmarva.

"What we've created is almost like a department store. We carry jewelry, apparel, shoes for any occasion, unique gifts, and one can really spend hours in the store just browsing our selection of items," said Joe. "I don't think you could walk into another store in the country and find the same mix of products paired with the experience that we provide for our customers," he added.
Customer service is the foundation upon which Vernon Powell Shoes was built. As soon as you step foot in the door at Vernon Powell, you are sure to be greeted by one of their incredible staff members who are trained and ready to help you find exactly what you are looking for. "We train our associates non-stop. Knowing all about the shoes we carry, how to measure feet, and what makes a shoe fit well versus not so well, are all important aspects of the services we offer, and the knowledge customers can expect from our employees," said Joe.
More than half of the VP Shoes full-time staff have been with them for over twenty years, and all of them are treated like family. "The credit goes to my father, Phil, for that," shared Joe, "He built a reliable team of great people, who are hard-working and just as passionate about our company and serving our customers as we are," he added.
For VP Shoes, giving back to their local community has always been an important value held by Vernon Powell himself, and one that is continually shown by the VP Shoes team. "I love being able to so passionately support the local running community, and our community at large, said Joe. "All of the local races need prizes and help to promote the events, and we do our best to offer as much support as we can, whether that's physical prizes, gift cards, or promoting the races in our stores."

Being locally owned and operated, the team at VP Shoes understands that shopping local this holiday season is more important than ever and they encourage everyone to do what they can to support local businesses as they purchase gifts for friends and loved ones.
"Shopping local has always been important, but COVID has really highlighted just how important it is that we all do what we can to give our local and independent businesses the support they need right now," added Joe.
Click here to view Vernon Powell Shoes' Business Directory Listing