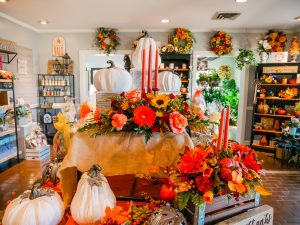 70 years ago, Kitty Dennis decided she wanted to give visitors at nearby PRMC something other than a 'box of powder' to take to loved ones while they were in the hospital. She started offering small plants out of her shop right next to PRMC's campus, and so Kitty's Flowers of Salisbury, Maryland was born.
Family run by third-generation florists Robin Gravenor and Wayne Bradford, Kitty's Flowers is now in the capable and generous hands of her grandchildren. Robin and Wayne grew up around the flower shop, regularly walking flower deliveries over to the nearby hospital and learning the ropes of running a storefront and wholesale flower business.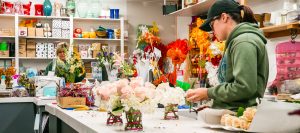 Kitty's offers a wide array of flowers, arrangements, gifts, and services at their four locations here on Delmarva. They have brick and mortar locations in Salisbury and Ocean Pines, Maryland as well as Laurel and Millsboro, Delaware.
"We take pride in what we do for our clients, and you simply won't find this kind of attention to detail, personalization, or customer service when ordering from a non-local chain like 1-800-Flowers," said Robin Gravenor, co-owner of Kitty's Flowers.

For Robin and Wayne, entering the flower industry and making sure Kitty's stayed a locally-owned, family business was a no brainer. Their mother, Penny Bradford, Kitty's daughter, is still very much involved in their thriving flower shop. "Our mother is pretty much retired, but her heart is still tied to our shop, and her passion for serving the community never ceased, so she is still involved in almost everything that we do here," shared Robin.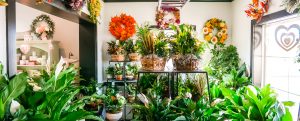 It is that passion for community that motivated Kitty's to start participating in 'Petal it Forward,' a national campaign hosted by the Society of American Florists, which encourages florists across America to distribute two bouquets at a time to random strangers, encouraging them to keep one and give the other away.
When COVID hit in early March, Kitty's owners Robin and Wayne, like most business owners, were scared and nervous about how they were going to survive the shutdown. They couldn't get flowers from their wholesale provider because of shipping delays and had to lay off most of their staff, but they were committed to still serving our community.
"For many weeks and months, people couldn't visit their friends and loved ones because Coronavirus was spreading. By offering flower delivery services, we were able to show them that someone is thinking about them and sending them love," said Robin
For Robin and Wayne, Kitty's Flowers comes down to the wonderful relationships that they cultivate with their clientele and our community at large. "We are there for people during some of the most emotional times in their lives: weddings, anniversaries, birthdays, illnesses, graduations, and even losing a loved one," shared Robin. "I have reminders on my phone of clients' important dates, in fact just this morning I had a reminder for one of our client's anniversaries so he wouldn't forget" shared Robin when asked what the best part of her work is.
"It's forming these types of close relationships with members of our community that's at the heart of Kitty's Flowers, and why we do what we do," added Robin.
Click here to View Kitty's Flowers' Business Directory Listing