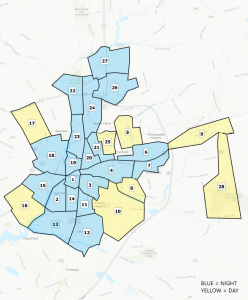 The City of Salisbury will be conducting a citywide fire hydrant flushing program.  the purpose of this annual program is to improve water quality, improve the health of our water system, and ensure fire hydrants are operational and in good working order.
To minimize inconvenience, beginning on Sunday October 22 and concluding the morning of Thursday October 26, we will be flushing the public water system highlighted in blue on the map at night between 7:00 p.m. and 5:00 a.m. 
All other areas on the map will be flushed over the following week during normal business hours.
There will be no interruption of service while this is in progress
If your business has more than one location please notify them. 
Please contact the department of waterworks, utilities division at 410-548-3103 if you have any questions.
###