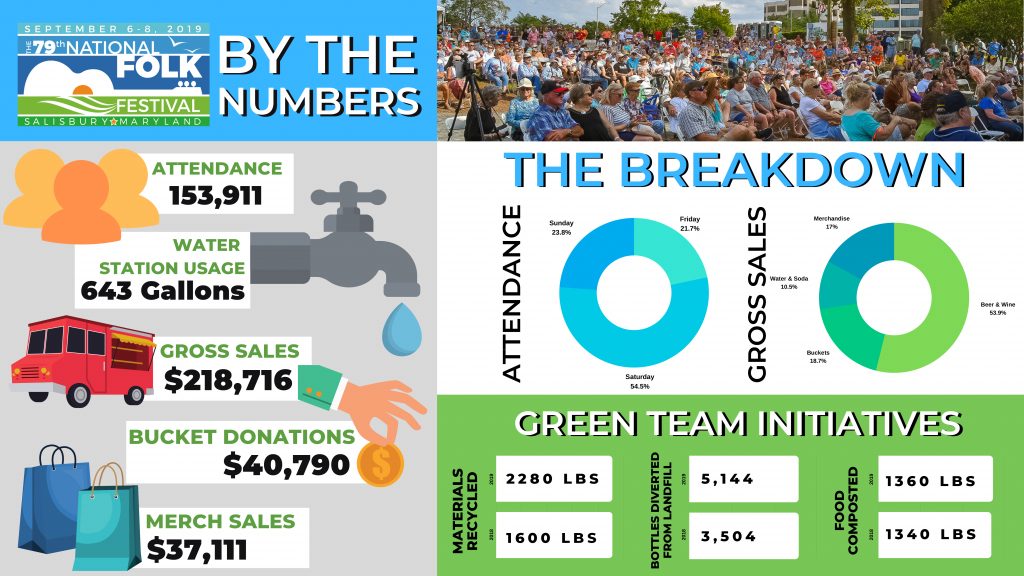 FOR IMMEDIATE RELEASE
9/13/2019
Contact: Mayor's Office
410-548-3100
The 79th National Folk Festival in Salisbury, Maryland: By the Numbers
Salisbury, Maryland—The second year of the National Folk Festival's 3-year residency in Salisbury, Maryland drew record crowds to the city's resurgent Downtown.  Mayor Jake Day reported that Salisbury's Information Services Department had calculated a total of 153,911 attendees – more than double the previous year's figure.
"We expected to see larger crowds this year, and we certainly did," said a smiling Mayor Day.  "It's a wonderful feeling.  Downtown has never been so alive."
For the second year, the City deployed an enterprise mesh Wi-Fi system which covered the footprint of the Festival.  Attendance figures are determined by counting the number of Wi-Fi enabled devices inside the coverage area over the three days of the Festival, and then applying a standard deviation formula which accounts for children and people without Wi-Fi devices.  Once the formula has been applied, analysts then subtract the number of unique devices which had been logged as present inside the footprint in the three weeks prior to the Festival. City Information Services Director Bill Garrett noted a significant increase in traffic beyond what was seen in the 3-week period leading up to the Festival.
"It's primarily social media driven," said Garrett.  "Streaming to sites like Facebook comprises a large portion of the bandwidth increase, which was almost 2,500% higher over the weekend of the Festival than it was in the previous 3 weeks."
Mayor Day noted that in spite of the large turnout, no public safety issues or alcohol control issues were reported.
"SPD and other participating agencies did an outstanding job as always," he said.  "All weekend we received compliments from attendees letting us know how safe they felt thanks to the presence of law enforcement."
Business owners also reported record numbers as Festival attendees shopped, ate, and drank at local establishments.  Roadie Joe's, a restaurant located at the heart of the Festival footprint, smashed its previous single-day and weekend sales records. Business was so good, in fact, that the restaurant was unable to open in time for the Monday lunch rush.
"Roadie Joes is out of food and out of energy," the restaurant said in a celebratory post on its Facebook page.  "Folk Festival 2019 is in the books and will go down as our busiest weekend in history."
By happy hour, the restaurant had resumed normal operation.
Next door, at Barefoot Baby Boutique, owner Martha Davis Ogburn spent the Festival greeting new faces from across the region, and the Country.
It was a phenomenal weekend! It surpassed all expectations," she said.  "The fun part was welcoming so many visitors to Downtown Salisbury. I had customers from all over.  Pennsylvania, Delaware, Virginia and as far away as California."
At Deadstock, the City's premiere source for vintage and boutique sneakers and footwear, sales were brisk, but the influx of new patrons wasn't entirely comprised of out-of-towners.
Owner Drew Davis said, "The Folk Fest for us drove a lot of new customers, some of whom live Downtown and had never come by previously.  We're looking forward to next year being bigger and better!"
As businesses filled to capacity with customers both new and familiar, a small army of volunteers kept the Festival on track, providing everything from fresh ice to backstage security.  Most visible amongst them was the "Bucket Brigade," an enthusiastic group whose job it is to circulate throughout the crowd seeking donations to ensure the Festival remains free for attendees.  Thanks to their ebullient spirit and the generosity of the crowd, donations this year more than doubled those received last year.
"Our 'Brigadiers' bring a great deal of passion and commitment to the Folk Festival.  They are energetic and outgoing, and they remind audience members that a 'drop in the bucket' makes the festival free and possible for all to enjoy," said Bucket Brigade Coordinator Shawna Kearsley.  "This year we collected $40.790.79, exceeding our 2019 goal.  Next year we plan to do even better."
Another volunteer effort which saw tremendous success was the "Green Team."  Comprised of City employees and volunteers, the Green Team assists Festival attendees with recycling, composting, and water conservation.  By providing water stations where revelers could fill reusable bottles, the Green Team helped avoid the consumption of over 5,000 disposable plastic bottles of water.  Those who did drink bottled, store-bought water were assisted in sorting their recycling at every receptacle – an effort which resulted in 1,680 pounds of plastic making its way to the local recycling facility.  Additionally, 1,360 pounds of food waste was composted, and 600 lbs. of cardboard were recycled.
The City of Salisbury's Sustainability Coordinator Alyssa Massey said, "Environmental stewardship is a priority for us, and I'm so thrilled to say that our Green Team helped attendees of the 79th National Folk Festival divert a significant number of recyclables, and over half a ton of food waste from the Wicomico Landfill – all while educating the public about waste streams, and providing tips on how to reduce the amount of waste they produce.  I'm remarkably proud of this team."
There was no shortage of recyclables, but thanks to the popularity of local craft and Maryland brewed brews, the Festival did briefly run dry. By mid-afternoon on Saturday, organizers were on the phone, sending out the call for more beer from Full Tilt, Eastern Shore Brewing, Guiness Blonde, and Evolution Craft Brewing.
Lora Bottinelli, Director of the National Council for the Traditional Arts, expressed her satisfaction with the event, noting that the community's enthusiastic support serves to magnify its positive impact.
"The 79th National Folk Festival was a resounding success by any and every measure," she said.  "Our artists delivered outstanding performances, sharing their cultural traditions from across America and beyond.  This year's attendance far exceeded expectations and launched Salisbury to new heights in its continued cultural renewal."
Wednesday, crews continued to remove what little Festival infrastructure remained in the city's Downtown.  Mayor Day, standing at the corner of N. Division and Main St., thumbed at his iPhone, answering interview requests and constituent concerns.
"I've never been so proud of this town," he said as he tapped out a text message.  Pausing, he glanced up and added, "I'm so sorry, give me just a moment.  It's about next year's Festival."