Mayor Jacob Day and Salisbury Fire Chief John Tull are pleased to announce the recent swearing in of 18 new volunteer firefighters and EMTs to the Salisbury Fire Department. The Swearing-In Ceremony is for new volunteers within the department that have successfully completed Fire 1 class or EMT class.
The ceremony is a chance for the City of Salisbury and SFD to formally recognize all of the hard work and determination volunteers have shown to become members of the Fire Department, and begin serving our city and its residents. It is also a way for Department members, City leadership, staff, and family members of those being sworn-in, to formally welcome them as members of Salisbury Fire Department.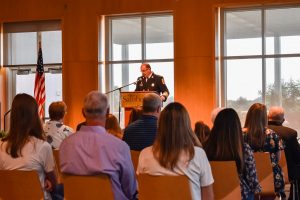 "Last month's swearing-in ceremony celebrated the achievements of our 18 newest volunteer members," said Chief Tull. "Volunteer firefighters have been a long-standing tradition in the American Fire Service and in the City of Salisbury Fire Department. The need for an active volunteer membership is crucial to the overall success of a combination fire service and we are extremely excited that they have chosen to join our Department and wish them much success," he added.
Becoming a member of Salisbury Fire Department means making a strong commitment to learning everything there is to know about providing emergency services and keeping our public safe. Those working toward an EMT certification will typically spend about 6 months on their certification, while the Fire 1 class takes about 4 months to complete.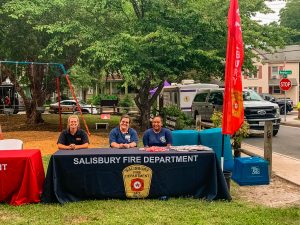 To aid in recruiting volunteer applicants, and helping them through the certification process, SFD brought on a dedicated Recruitment Coordinator. Shelby Gardiner, Recruitment Coordinator at Salisbury Fire Department, says she is with applicants every step of the way as they navigate this new field and work toward becoming strong public servants. "I make sure to follow all applicants as they go through the process of joining our team from the moment they submit an application, to the day they are sworn in as volunteer members," shared Gardiner.
Salisbury Fire Department has also recently implemented a mentor program within its department so that volunteers have someone that they can reach out to, rely on, ask questions, and receive support. The program has been a huge success and aids in showing volunteers our appreciation and that they are valued members of our team.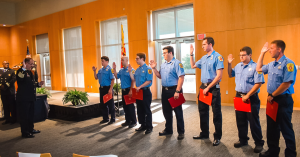 Gardiner added that she believes the most important thing about volunteer recruitment and retention is engaging with the volunteers and the community. The recruitment team regularly attends community events like 3rd Friday to let people know about the program and help people with the first steps toward becoming a member.
"We are so proud to welcome the Salisbury Fire Department's newest volunteer members to team SBY," shared Mayor Jacob Day. "Thank you to Chief Tull, Shelby Gardiner and all other members of our department that work hard to recruit, train and welcome volunteers to our team with open arms. We thank you for your commitment to this city, its residents and their safety," he added.
To learn more about Salisbury Fire Department's Volunteer Program, visit www.salisburyfd.com/page/recruitment or contact Shelby Gardiner at [email protected]