As we wrap up the school year, the City of Salisbury is excited to announce the recipient of the 2018 Mayor's Prize. The Mayor's Prize is given as part of Salisbury University's Richard Bernstein Achievement Award for Excellence business plan competition, and recognizes unique, innovative start-ups which would benefit from headquartering their operations in Salisbury.
Salisbury University's Franklin P. Perdue School of Business hosted its annual Entrepreneurship Competitions for students Friday, May 11, in Perdue Hall on the University's Campus. Events included an "Invest in My Idea" poster session and a Shark Tank/Gull Cage round, during which students presented "elevator" pitches to the judges. Each year, the City of Salisbury participates in the "Invest in My Idea" poster session discussing with the business ideas for potential future entrepreneurs. This year, the City of Salisbury team was wowed by the sheer number of participants that were eager and well-prepared to share their business concept.
Mayor Jacob Day is pleased to announce that the Mayor's Prize was awarded to Cody Revel and his business, The Athlete Academy, a training facility which opened in April at Williamsport Circle.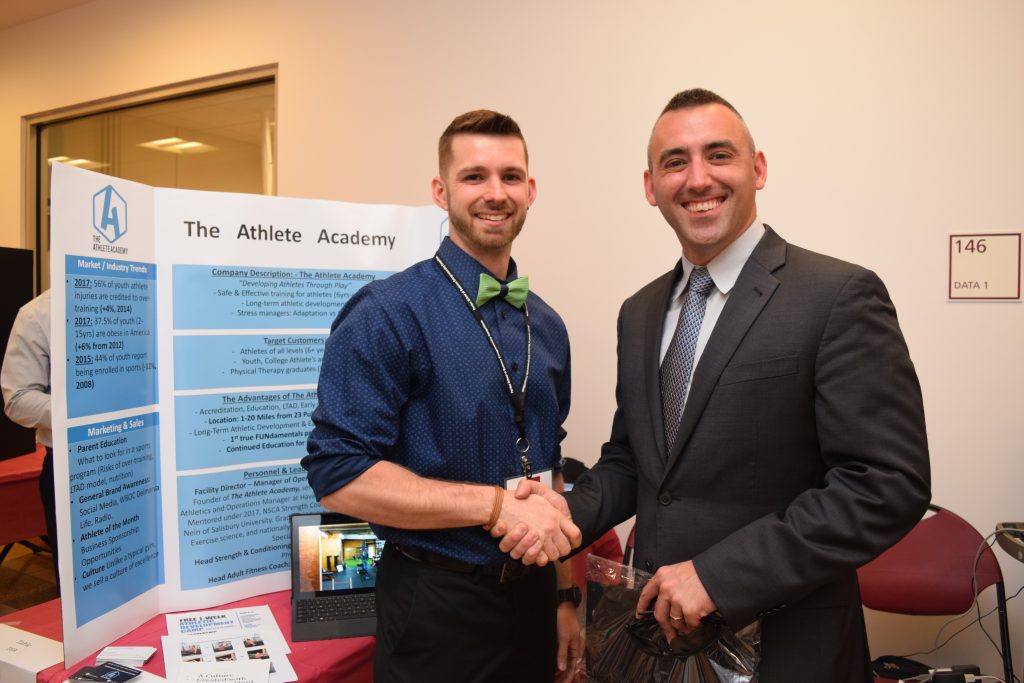 Having previously met with Mr. Revel as he was transitioning the business, Director of Business Development, Laura Soper, was impressed by his passion and drive for coaching athletes of all ages. "Cody and I met back in February as he was working on his business plan and seeking a new location for the business. At this meeting, it was clear that he had done thorough research and was passionate about what he does. I had the chance to catch up with him at the SU Entrepreneurship "Invest in my Idea" poster competition and was blown away by his progress and plans for growth. His investment in the Salisbury and Delmarva community made him the clear choice to win the Mayor's Prize"
In addition to the Mayor's Prize, his business plan recently took home the $20,000 Bernstein Achievement Award for Excellence during the 31st annual Franklin P. Perdue School of Business Entrepreneurship Competitions for SU students. He received $1,000 by advancing in the first round of competitions, the "Invest in My Idea" poster presentation. He placed first in the second round of the competitions, the "Gull Cage," winning $4,000. (In the Gull Cage, participants give a Shark Tank-like elevator pitch to local business leaders). In all, Revel left the Entrepreneurship Competitions with some $31,000 in cash awards and services. The day before, he received $15,000 through SU's Philip E. and Carole R. Ratcliffe Foundation Shore Hatchery entrepreneurship competition for business startups throughout the Mid-Atlantic.
###