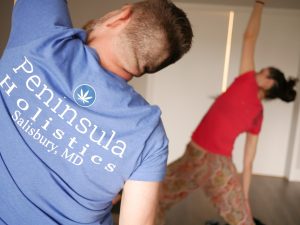 On December 1st, 2017, Maryland's Medical Cannabis Program became fully operational and ready to serve the 8,500 registered patients that were certified to purchase medical cannabis through the nine dispensaries that were open at the time. One of those first nine dispensaries to set the precedent for this brand new industry in Maryland was Peninsula Alternative Health, owned by Anthony Darby, located right here in Salisbury.
Peninsula Alternative Health resides under the Peninsula Wellness umbrella, which the company has dubbed "your home for holistic empowerment." Peninsula Wellness encompasses both the holistic wellness side and the dispensary side of the company and empowers patients with knowledge and expertise to help them make better health decisions for themselves. They focus on cannabinoid evaluations, holistic retail, community events, and education.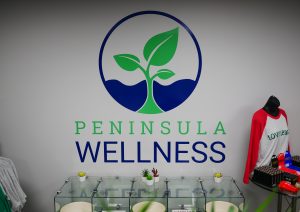 "A few months into our operations we began to realize that our patients needed a lot more than just cannabis, and in some circumstances, we weren't being much different than our pharmaceutical counterparts. By just providing a chemical to patients and not addressing root causes of the problems patients aren't able to truly get better, and that's where the Wellness side of Peninsula comes into play," shared Darby.
Darby says his fascination with medical cannabis, and eventual formation of his business model, began when he was at a business conference for a former employer. His conference pass granted him access to other conferences going on at the venue and he was able to get his first taste of the business side of medical cannabis, including all of the companies working hard to bring alternative medicine to patients in Maryland.
It was soon after that Darby decided to make a shift from his corporate job to planning on how to bring medical cannabis to patients in Maryland, especially to those located on the Eastern Shore. "Our team worked hard for about a year and a half to prepare a thorough and complete application for the State's Cannabis Commission, and because of that we were one of the first dispensaries open when it was announced that sales could begin," shared Darby. Not only was Peninsula Alternative Health now open, but they were one of the only dispensaries serving patients on the Eastern Shore for a short time period before others began to emerge in Ocean City and Cambridge.
"We have a lot of former veterans with severe PTSD who come to see us with a laundry list of prescription medications that they are on. One patient that we saw was on 13 different medications, afraid to leave the house, afraid to interact with people, it was a tough situation. Within six months we were able to help wean him off of at least half of his prescription pills using cannabis, but beyond that he got his quality of life back, he is able to go to support groups, drive a vehicle, and come into the dispensary on his own," shared Darby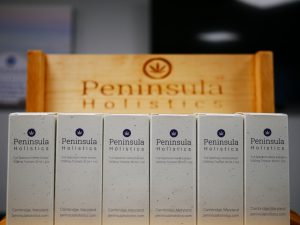 Darby says success stories like that of the veteran are what gives him so much confidence in the effects and benefits of medical cannabis, as well as what his company is doing as a whole. Had this person not found Peninsula Wellness and an alternative to staying at home, terrified, taking over ten medications a day, he would probably still be in the same situation and unable to leave his home.
"It's important to us as a company that no one feels intimidated when they walk through our doors. We want new patients to be able to walk into our facility and feel comfortable, not overwhelmed. We put a lot of effort into our first-time patient experience, from our welcome packets to helping patients choose which form of medical cannabis is right for them," said Darby.
Employees at Peninsula Wellness are just as committed to the company's vision as its owner. They receive thorough initial training, monthly training, as well as constantly being provided with continuing education materials such as articles and other educational resources. This ensures that Peninsula Wellness' patients are always receiving the best when it comes to care and information.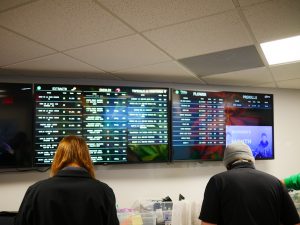 When the COVID pandemic reached the US in March of last year, Darby and his team had to move quickly to figure out how to continue safely providing patients with their medicine. He commends the state and the MMCC (Maryland Medical Cannabis Commission) for having the foresight to approve drive thru measures for patients, ensuring that they didn't have to get out of their vehicles and interact inside the building. This measure has been so popular and successful that it has been recently approved by the state to be permanent, which Darby says is incredibly helpful for his patients that have low or no mobility.
Last September when Peninsula Wellness moved to their new location on Mt. Hermon road, they brought with them that same drive-thru setup, but on a much larger and easily navigable campus. Anthony says that on a busy day the company does about 500 transactions, and they are one of the leading dispensaries by sales volume in the state.

Two things sum up why Anthony Darby continues to run his business with the same tenacity and drive that he had at the very beginning of the process: helping people and changing people's perception of medical cannabis. "What makes this all worth it to me is when a parent, whose child hasn't slept through the night in years due to seizures, tells me that her child slept soundly and peacefully for the first time since she can remember," shared Darby.
When it comes to changing people's perceptions of the medical cannabis industry, Darby exceeds there too. From helping local companies formulate cannabis policies for their employees, to working hand in hand with local pharmacies to create personalized medication plans for patients, Peninsula Wellness truly puts holistic healing power directly into its patients' hands, and is there every step of the way for support and guidance.
Click here to view Peninsula Wellness' business directory listing