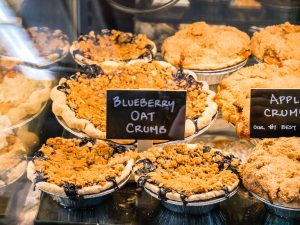 When most people think about chess, they think of the competitive board game or maybe Netflix's hit show 'The Queen's Gambit.' In Salisbury, we think about pie. Ugly Pie to be exact.
Lemon Chess and Brownie Chess are just a few of the mouth-watering pie flavors offered at Ugly Pie in Downtown Salisbury, owned by Shaina Bounds and Heather Hall. The common chess pie that we all know and love actually originated in Southern kitchens and contains a flavored custard, usually with a crisped brown topping.
"We both have so many memories of cooking and baking with our families while growing up. We all love food, and a lot of the recipes that we started with are ones that we have used in the kitchen since we were kids. And funny enough, those recipes are some of our best sellers to this day," shared Shaina.

"My Mom really taught me my way around the kitchen when I was pretty young. And it was something that I really liked to do, by 6th grade I was helping her prepare dinners and bake for our family," said Heather.
The duo has been baking pies together since 2014, having moved into their brick and mortar location in late 2017. The idea came to them after they realized that while Salisbury had a lot of wonderful cake and dessert shops, no one offered solely pie. It was then that they began baking in their home kitchens, and after an incredible first Thanksgiving and Christmas season, they knew they had to find a commercial kitchen and start increasing their production.
In 2017 the owners of the building Ugly Pie currently resides in reached out to Shaina and Heather about coming to see a space that they had available in Downtown Salisbury. Almost immediately the ladies of Ugly Pie were on board with their soon-to-be location, and they went on to open their doors in November of 2017.
"We still pinch ourselves sometimes that we have a location Downtown. It was always something we wanted, and the way that this amazing space fell into our laps tells us we are where we're meant to be," shared Heather.
Everyone who has tried anything from Ugly Pie knows that these ladies can do no wrong when it comes to dessert. While they were developing their menu, quality was a very important component of everything Shaina and Heather were looking to offer. Shaina and Heather say they always wanted to offer more savory items, and by incorporating different quiches into their menu, they are able to do just that.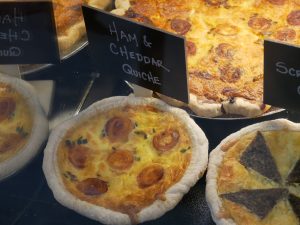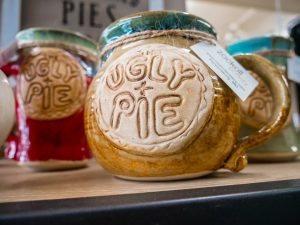 They also wanted to make sure that they had something for everyone. "We love when people come in and say 'I don't like pie' because we look at it as a challenge, out of over 80 flavors we're sure we can change your mind about pie," shared Shaina.
Both Shaina and Heather want their customers to feel right at home when they walk in the doors of Ugly Pie.
"Customer service and consistency with our products are two of our big values as a company. We really want people to feel like they are coming home to a warm and welcoming place when they step in our doors," shared Heather.
Ugly Pie also supports the community by showcasing and selling local artists' work inside of their location. Shaina says that Ugly Pie got its start because someone gave them a chance, and the least they could do is make sure that others are given that chance as well.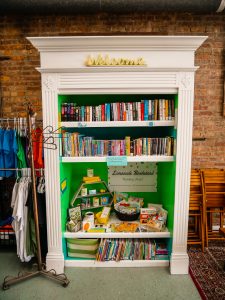 Beyond supporting other local businesses, the ladies at Ugly Pie give back to the greater Salisbury community as well. They donate all of their compost to the Camden Community Garden, which greatly affects the plant and vegetable growth in the garden. They are also committed to recycling as a business and being environmentally friendly as well.
Shaina and Heather say that it's the community's incredible support of their business that has allowed them to grow from a home kitchen operation to a brick and mortar location in Downtown Salisbury. "As someone that shopping local directly affects, I can personally tell you how impactful your purchase is when you shop at a locally owned and operated business," shared Heather.
Click here to view The Ugly Pie's Business Directory Listing