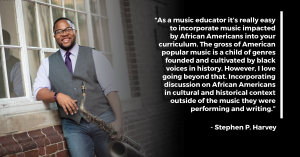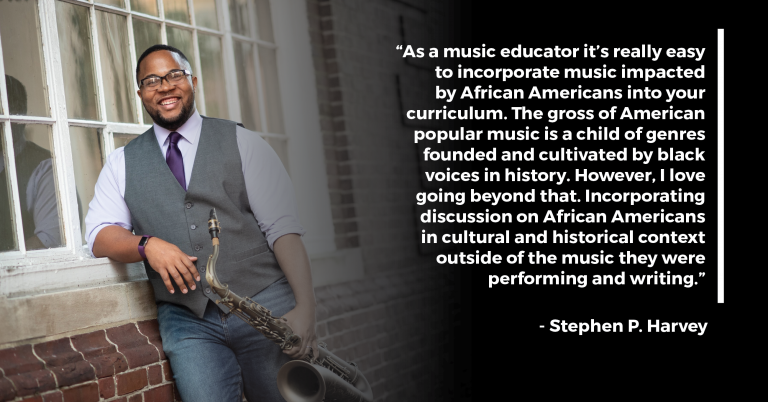 You're an accomplished musician and educator, is there an African American artist that has had a significant impact on you, your creative process and your teaching and directing?
I couldn't name it down to one artist. Since we don't exist in a vacuum there's a litany of black (is say that because not all are American) artists that have influenced my musical palette, my educational process, and goals in the profession of music. However, if I had to pick a list of African American artists, I would have to choose Billy Strayhorn, Miles Davis, John Coltrane, Wayne Shorter, Dexter Gordon, Langston Hughes, Dudley Randall, and Kendrick Lamar. These composers, performers, and poets
Why did you choose to become an educator, what is your favorite part of working with your students?
I simply loved music! My teachers were always the most influential people in my life. Influencing and educating the next generation of world citizens through the lens of music just seemed like a great career path. My favorite part of working with the students is talking about the intersect of music and culture. Discussing music's role in society and personal lives lead to interesting conversations. I'm always proud of their performances, but going the level deeper into understating is the best part.
Were there any particularly tough obstacles you had to overcome in the process of composing, recording and releasing your debut album 'Suite childhood'?
This album was made when there was a lot of support around me. Fortunately, I was in graduate school and was constantly surrounded by faculty and other students who were into making music! At that point in time, it was the most composing I had ever done (so that was a little daunting). Right now I'm in the midst of composing for a new album project which is even more writing. So it takes more time, traveling, and commitment to get this music played.
You describe your music as a fusion of jazz, classical, funk, gospel, hip-hop and more. Do you enjoy the stark juxtaposition of styles, or are you after that seamless blend of sound?
For me, it's a seamless blend of sound (or an attempt at one). Rather than a piece that has a gospel section, a classical section, and a funk section that are blatant and separated, it's more musical to draw for these influences to create your own voice. What do all of these things have in common? What separates them? I favor using those similarities and differences to make a composite that is unique. Because music doesn't exist in a vacuum, it's almost impossible not to do this anyway!
In what ways do you personally celebrate black history month?
I celebrate through educating others. As a music educator is really easy to incorporate music impacted by African Americans into your curriculum. The gross of American popular music is a child of genres founded and cultivated by black voices in history. However, I love going beyond that. Incorporating discussion on African Americans in a cultural and historical context outside of the music they were performing and writing. Just like a feminist, LGBTQ advocate, or any other minority, it's extremely important to discuss the intersections of different groups of people while talking about American (and World) history, culture, art, music, and so on. For me, it's about highlighting the month, but educating the school year.