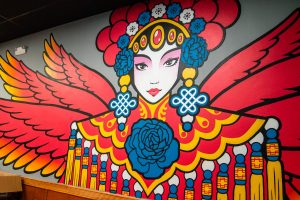 Every March in the United States we celebrate Women's History Month by commemorating the vital role that women have played, and continue to play in American history. In many other countries around the world, as well as in the US, women are continuing the fight for equality in the home, workplace, and general society. Nicole Lin, owner of Manna Asian Cuisine in Salisbury, often reminisces on how different her life would be as a business owner if she was still living in China.
"Where I am from, traditionally, a woman can't even speak too much let alone own and operate a business of their own. This is why I love America, because of the opportunities available to us here, especially for women. I am able to co-own my business here with my husband, my name is attached to it, and for that I have a great sense of pride," shared Nicole.
Nicole and her family are from the Fujian province of southeast China, full of beautiful mountains and coastal cities. She says that one of the main reasons she and her family chose to move to Salisbury is the City's proximity to the ocean, which reminded them of their home city in China. She says that even the weather is extremely similar to that of the Fujian province.
In April of 2018 Nicole Lin and her husband Jacky purchased Manna Asian from its previous owner. Nicole and Jackie were longtime customers at Manna before taking over, sometimes ordering food twice a week for their family before the previous owner offered to sell it to them.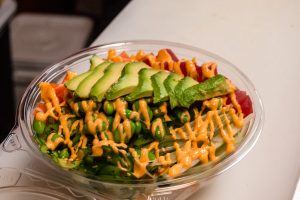 Nicole says that as immigrants, she and her husband didn't have a lot of formal schooling before coming to America, so it was easier to pick up a trade that could easily be taught to them, like cooking. Her husband Jacky already had some knowledge of sushi preparation, and also received two months of training in how to properly cook Korean food from Manna's former owner before the Lins took over.
Salisbury has over ten American-Chinese restaurants and what interested the Lins the most about Manna was that it was Korean cuisine, something new and different that they could offer to Salisbury. After visiting her parents in New York City a few times, Nicole was inspired by the culmination of all the Asian cultures and cuisines in the City that she wanted to bring some of it to Salisbury as well.
"Something that we had never seen in Salisbury was the poke bowl, which we were very excited to make available. I also wanted to offer bubble teas, which was something else that no one was offering in Salisbury," shared Nicole.
Poke bowls are actually a traditional Hawaiian dish, which over the years have infused elements of Japanese cuisine into them as well. Think of the Poke bowl as a deconstructed sushi burrito, diced fish is usually placed atop a bowl of sushi rice, and topped with different things like cucumbers, mushrooms, avocado, ginger and so much more.
Manna Asian Cuisine offers a build-your-own poke bowl option which allows customers to choose between white rice, brown rice, and a spring mix as a base. Then customers choose a protein such as spicy tuna, chicken teriyaki, tempura shrimp, tofu, and more. After that, choose four mix-ins from a huge list that includes onions, mangoes, cilantro, edamame, asparagus and others. Last, customers can choose up to four toppings such as seaweed salad, peanut, masago, crunchy flakes, and more!
"It was important to us when we were building our menu that we kept some of the traditional Korean items, as well as added some new items of our own. We didn't want to take customers away from the other Chinese restaurants in the area, so we created a menu that didn't really exist around here yet," shared Nicole.
Manna's menu also features classics like fresh, handmade sushi, appetizers such as edamame and gyozas, delicious udon, and their brand new ahi tuna sushi burger. Their mouth-watering entrees range from sushi burritos and bang bang chicken to pork bulgogi, miso ramen, and over 20 other flavorful main courses to choose from in addition to their sushi, rice and noodles, bowls, and bubble teas.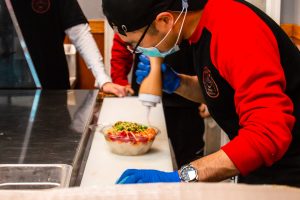 When Nicole and Jacky look at Salisbury, they see opportunity. When Nicole moved here with her family at a young age, she immediately began working to help support them, missing out on attending high school as a result. She is very excited to have the opportunity this year to go back to school and begin ELA courses through Salisbury University or another local organization.
"The strength of women is so inspiring to me and I want to make sure that all women know how important and capable they are. I am so proud of how far I have come as a mother, wife, and business owner, and I want my two girls to have that same freedom to make choices about wanting a family, being married, or going to school for themselves," shared Nicole.
Click here to view Manna Asian Cuisine's Business Directory Listing