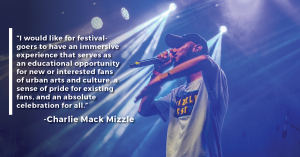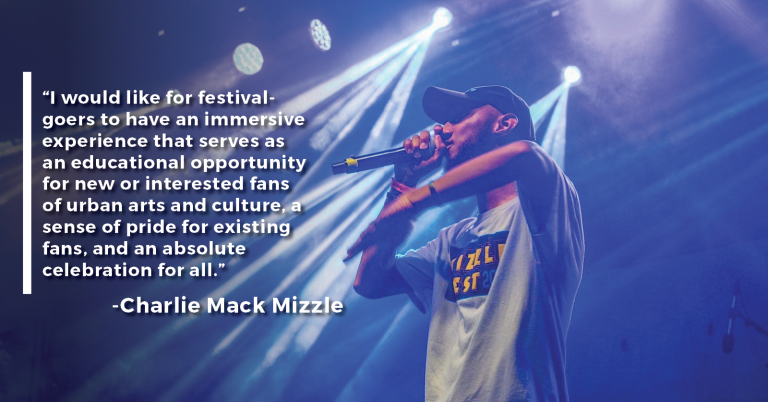 You run Mizzlefest, an annual festival in Salisbury. How did the idea begin for this urban arts festival and what inspired you to get it going?
It originally started as just a concert to cap off the promotional run of my last project "Lightning In A Bottle" back in 2018. After some conversations, I decided to use it as an opportunity to shed light on the many rising hip hop and r&b acts from the Eastern Shore… MizzleFest was born. My foundation partner, Drew Davis, who was already well versed in this kind of event having put on Urban Arts Fest in Downtown Sby a few years prior, helped me amalgamate the ideas to bring MizzleFest 2019 to the amphitheater.
What experience do you want festival-goers to have?
I would like for festival-goers to have an immersive experience that serves as an educational opportunity for new or interested fans of urban arts and culture, a sense of pride for existing fans, and an absolute celebration for all.
Tell us about the Mizzlehouse Foundation, some of the events you've held and where you see it going in the future.
The Mizzle House Foundation is an opportunity for us to connect with youth, celebrate the arts, and also serve our community. We've held our first Community FriendsGiving event in November, a shoe and coat drive in December, and will be introducing our summer educational program in the coming months.
In what ways do you personally celebrate black history month?
Personally I celebrate black history month daily by pushing to educate myself on those that paved the way for me so that their contributions are never forgotten. Also by striving to be the best that I can be so that my story is impactful enough that young black boys and girls may learn something useful from my journey long after I am gone.