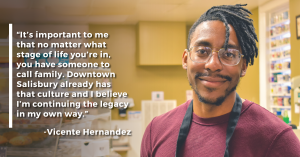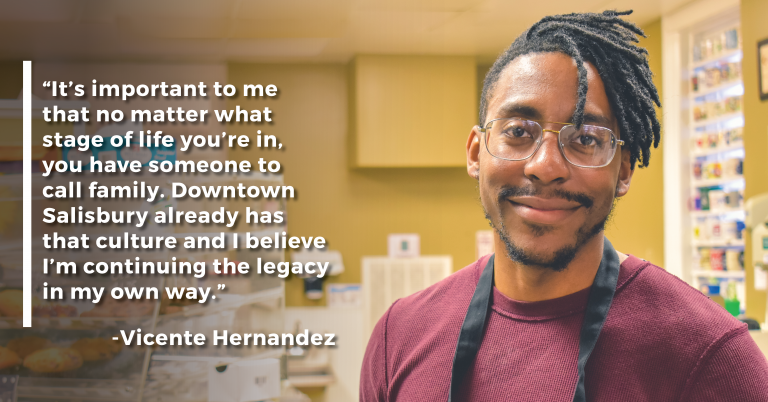 You're a local restaurant owner in Downtown Salisbury, what encouraged you to make the leap into ownership and what's the biggest thing you've learned since becoming owner/operator?
I would say I felt like I needed to be an entrepreneur. There's been something inside me since I was young that called me into entrepreneurship. My father owned businesses throughout his life. So it's been something I've watched and learned all my life. What I didn't learn though from my youth is the daily day in and day out sacrifices you make for your customers and staff. There are many customers I go out of my way for just for them. It's in those moments I'm learning loyalty and family over making a dollar. It's been really important to me to create a family through my business.
Tell us a little bit about the type of community environment you strive to create at your restaurant, Olde Towne Deli, and throughout Downtown SBY?
It's my goal to create a community of love and caring for one another. I speak highly of my customers often because they eat and do life with or around our homeless community. It's important to me that no matter what stage of life you're in that you have someone to call family. Downtown Salisbury already has that culture and I believe I'm continuing the legacy in my own way. We recently installed a mural on our wall that quotes Dr. Seuss. It says, "Unless someone like you cares a whole awful lot, nothing is going to get better. It's not." This is something we hold dear. To be the person who cares and do our part in helping our community.
Many of us saw in the local news that you've been going out of your way, pretty often, to provide breakfast and meals for our homeless population, as well as for the construction workers in Downtown Salisbury. What inspired you to make this gesture and do you think kindness is contagious enough to ripple off of your kind acts and inspire more?
It's been amazing to see how people have been sharing our kind acts. It's never been something we go out of our way to publicize, but we appreciate all of the support we've been getting. Not only do we believe in just being kind to our neighbor because it's the right thing to do. We also believe it's what God wants us to do. We hold dear to scriptures like John 13:34-35, where we are called to love like how God loves us. We've been inspired to give back to those in need by His amazing love towards us. We also believe our community is ready for a kindness wave. We've seen so many people jump on this movement to pay for someone else's lunch or cover breakfast for a business. It's been an amazing experience that we can only hope continues.
In what ways do you personally celebrate black history month? 
It's been really important to me to keep the ball rolling. There have been so many influential people in our history that have made it possible for me to be who I am today. Yet, without research, it's hard to properly honor my past. So I spend time reading stories to my daughter of people who made an impact on our lives. As well as visiting different events that help expand my knowledge. The fact that some history we have to personally dig for is kind of exciting. There are many things I've learned in school but have forgotten. Yet, it's the facts I've learned in personal research that have lasted over time. So my personal black history studies have been so life-changing and encouraging for me to keep the ball rolling.