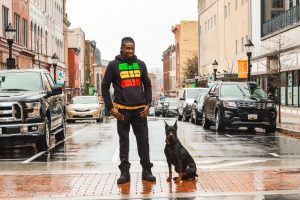 Everyone knows the saying 'A dog is a man's best friend.' But anyone who knows Talvird Jackson IV or has worked with his company K9 Legend Family Dog Training and Aggression Rehabilitation knows that Tally is a dog's best friend. Equipped with over ten years of dog training experience, K9 Legend specializes in aggression rehabilitation and obedience training for dogs and their owners on the Lower Eastern Shore.
Tally received a Career Diploma as a Dog Obedience Trainer/Instructor from Penn Foster, is a member of the International Association of Canine Professionals, is a member of the Association of Professional Dog Trainers, and is a certified American Kennel Club Canine Good Citizen Evaluator. The AKC's Canine Good Citizen Program is a skill training program that focuses on teaching dogs basic manners and obedience, as well as teaching owners the value of responsible ownership.
All of the training that Tally provides for his clients goes above and beyond the Good Citizen Program's standards. Tally has made it a mission to continue to educate himself to better serve his clients.
Tally's journey to owning and operating K9 Legend began when he got his first dog of his own, a Miniature Pinscher named Legend. Tally had trouble finding someone in the area to help him with training Legend, and so he started to toy with the idea of getting certified himself and filling this gap in services that he saw in the community.
"I do a lot of work with highly aggressive dogs and specialize in situations in which the owner may be scared to take the dog to a trainer, afraid of what it might do to another dog or the trainer. I enjoy being able to work with these animals and their owners to build trust, respect, and a sense of safety in place of the animal's aggression," shared Tally.
When working with dogs, Tally says he has to put aside the kind of language that humans are accustomed to and speak "dog." This means communicating with the dog in ways that are inherent to them and that they all understand, such as using training aids and tools that mimic things that dogs do to communicate with each other.
Regardless of whether dogs are human aggressive or dog aggressive, Tally has to work to gain the dog's trust first before proper training can begin. Using specific techniques, he builds trust and shows the dog what is expected of it. Tally also utilizes a 'balance' training approach, which is a mix of positive and negative aids in order to train dogs. In just a few sessions, owners begin to see change in their dogs.
When bringing their dog to K9 Legend for training, owners can first expect an initial evaluation and quote, Tally wants to make sure that all owners are prepared for the emotional and monetary commitment that comes along with training.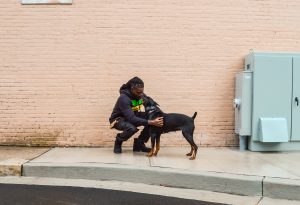 It has become a very clear fact that Tally is the Dog Trainer that veterinarians, groomers, and other dog professionals recommend for dogs that show aggressive, reactive, fearful or anxious behavioral problems that have been unable to be addressed successfully elsewhere. Tally loves to be proactive instead of reactive so if you have a new puppy or dog, it is strongly suggested that you contact him today.
"My wife, my mom, and my kids are the reason I get up every day and do this. I truly love what I am doing, but this is all for them, and they give me that motivation and support to go out and give support to pets and pet owners in our community," said Tally.