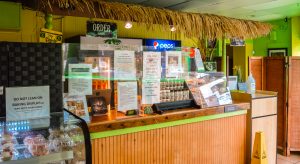 At the heart of Caribbean Flava, a Jamaican restaurant located in Downtown Salisbury, is authenticity. Authenticity in the Jamaican food they serve, the ingredients they use, and the 'good vibes' that the Scott family creates for their customers.
Owners Keischa and Elvis Scott opened Caribbean Flava's permanent Salisbury location in 2016, after three years of serving local customers at the Laurel, DE Flea Market. Born and raised in Jamaica, Elvis met Keischa in Queens, New York before starting a family and later deciding to move to the Delmarva area.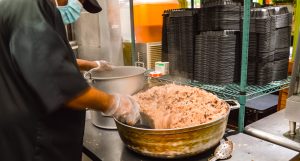 Keischa says that their family would often take trips to Ocean City from New York and always craved authentic Jamaican food while in the area, but noticed that there weren't many Jamaican restaurants to get a meal from. It was then that they decided to take a big step and start a business on Delmarva.
"We had so many people that would travel from the surrounding areas to visit us at our location at the Laurel Flea Market, and we are so grateful for those loyal customers who helped give us the confidence to open a permanent location in Salisbury," said Keischa.
Family owned and operated, Caribbean Flava specializes in authentic Jamaican cuisine, with offerings that range from classic dishes such as Jerk Chicken, Rasta Pasta, Oxtail, Goat Curry to vegetarian options. From lunch specials, to daily specials, soup, kid's meals, and platters, there is something for everyone at Caribbean Flava.

"Authentic ingredients and the true experience of Jamaican cuisine are very important to us, especially to my husband, Elvis. If we run out of an essential ingredient for a dish, we remove the dish from the menu for the day until we can get that specific ingredient back in stock," shared Keischa.
Their jerk dishes have become so popular that the Scotts began selling 'Scott's Seasoning,' Elvis' special seasoning recipe by the bottle. They currently carry jerk sauce (mild and hot) as well as dry jerk and oxtail seasoning mixes. Keischa says people love the seasoning so much that they have trouble keeping it in stock.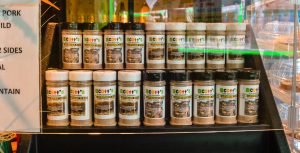 In addition to their regular menu and Scott's Seasoning for sale, Caribbean Flava also offers delicious baked goods and cakes under the name 'Cakes by Keke,' baked by Keischa herself.
In March of 2020 though, everything changed when COVID hit, and the Scotts had to very quickly figure out how to operate under new conditions as they switched to carry out only. "We are very positive people though, and we always say that God didn't lead us this far to have us shut our doors. And so we persevered," said Keischa.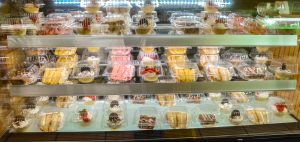 When it comes to shopping local, Keischa says she and Elvis do everything they can to support local businesses and keep money in our local economy. "We purchase many of our authentic ingredients from Caribbean Express Market right here in Salisbury and we understand the importance of making sure that we pull together and support our community the best way that we can," said Keischa.
Be sure to stop by Caribbean Flava the next time you are craving authentic Jamaican cuisine, chef Elvis is sure to make your taste buds dance!
Click here to view Caribbean Flava's Business Directory Listing