Salisbury, MD—Mayor Jake Day announced today that 2017 was Salisbury's best year for new and infill construction since 2007, with the City tracking over $55.5 million in construction projects.
Several factors influenced the numbers, including an increasingly stronger economy, and incentives in the form of permit fee waivers for builders.
The fee moratorium, adopted by the City Council last February, led to a total of 19 permits being issued for new, single-family homes inside City limits. This makes 2017 the first year since 2007 that a new, single-family housing development has been built in Salisbury. 12 new homes are currently under construction from Sassafras Meadows to Sleepy Hollow, to East Church St, to Camden, to the Hunter's Crest development on the City's Eastside.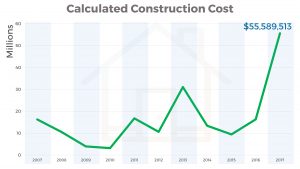 "As a direct result of the fee moratorium, we see the first new housing development inside the City in a decade. The first new neighborhood," said Mayor Day. "Direct proof that these incentives are breathing new life into the residential construction market here in Salisbury."
Construction City-wide has been on the rise as well, with a multitude of commercial projects driving employment up within the sector. From 2016 to 2017, the City of Salisbury Metropolitan Statistical Area added 200 permanent construction jobs.
"Beyond just adding attractive new single-family homes and strengthening our core, we're strengthening our workforce, putting local paychecks in local pockets," said the Mayor.
With even more commercial and residential projects lined up for 2018, Mayor Day sees success in the City's future.
"The progress doesn't stop with 2017. We will continue to do everything we can to make this City a place where developers, builders, and homeowners can turn lots into houses, houses into homes, and homes into communities. "